Where to Stay and Things to Do in Tulum
There are many great options for places to stay in Tulum, ranging from budget-friendly to luxurious accommodations. If you're looking for a beach getaway, Tulum's white-sand beaches are definitely worth exploring.
Some of the best areas to stay in Tulum include the beach zone, south Tulum beach, north Tulum beach, and Tulum town. Each area offers its own unique vibe, so it's worth considering what you're looking for in terms of atmosphere and proximity to the beach. The white sand beach in Tulum is so stunning that will make you want to stay forever in some of the  best boutique hotels in Tulum can offer. The majority of the best Tulum accommodation will have access to the beach and next we will be sharing some of the best hotels in Tulum town.
If you're looking for a luxury experience, there are many boutique and luxury hotels in Tulum, some of which offer private beach areas and beach clubs. Some of the best luxury hotels in Tulum include Be Tulum, Jashita Hotel, and Casa Malca.
For those on a budget, there are also plenty of affordable accommodations in Tulum town and along the beach road. Some budget-friendly options include Hotel Ma'xanab Tulum, Hotel Tiki Tiki Tulum, and other hotels like Coco Tulum and Azulik.
No matter where you choose to stay in Tulum, there are plenty of things to do and explore. The Tulum Ruins are a popular attraction, as well as swimming in cenotes and exploring the local culture and cuisine.
Activities to do in Tulum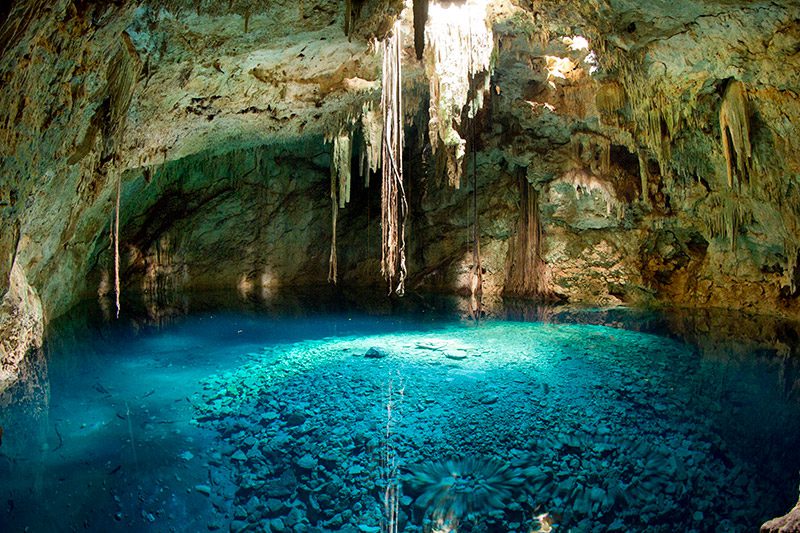 Tulum is a beautiful coastal town in Mexico, known for its stunning beaches, rich history, and vibrant culture. Here are some things you can do in Tulum:
Explore the Mayan ruins –

Tulum was once a major Mayan city, and the ruins are well-preserved and offer stunning views of the Caribbean Sea.

Visit the Tulum Beach –

With its crystal clear waters and soft white sand, Tulum Beach is one of the most beautiful beaches in the world. You can spend a day soaking up the sun and swimming in the warm waters.

Snorkeling and Scuba Diving –

Tulum is home to the Mesoamerican Barrier Reef, which is the second-largest coral reef system in the world. You can snorkel or scuba dive to see the colorful marine life and explore the underwater caves.

Cenote Diving –

Tulum is famous for its cenotes, natural freshwater swimming holes formed in limestone caves. You can swim, dive, or snorkel in these crystal-clear waters and admire the beautiful rock formations.

Visit the Tulum Artisan Market –

The market is a great place to buy souvenirs and gifts, and you can find everything from handmade pottery to beautiful textiles and jewelry.

Enjoy the Tulum Nightlife –

Tulum has a vibrant nightlife scene with plenty of bars, clubs, and restaurants to choose from. You can enjoy live music, dance the night away, or relax with a drink on the beach.

Take a Yoga Class –

Tulum is known for its wellness culture, and there are many yoga studios and retreat centers that offer classes and workshops for all levels.

Visit the Sian Ka'an Biosphere Reserve –

This protected area is home to diverse wildlife, including crocodiles, jaguars, and manatees. You can take a guided tour to explore the reserve and learn about its ecology and conservation efforts.
Where to eat in Tulum
Tulum is known for its vibrant food scene, with plenty of options ranging from traditional Mexican cuisine to international dishes. Here are some popular places to eat in Tulum:
Taqueria La Eufemia

– A casual, beachfront taco spot serving up delicious tacos and cold beers.

Burrito Amor

– A popular spot for breakfast burritos and other Mexican breakfast dishes.

Posada Margherita

– An Italian-inspired beachfront restaurant serving homemade pasta and fresh seafood.

Raw Love

– A vegan and vegetarian cafe serving up smoothie bowls, salads, and other healthy dishes.
These are just a few of the many great restaurants in Tulum, so be sure to explore and try some of the local cuisine during your visit. And if you are looking for high-end restaurants during your visit, Tulum is home to several high-end restaurants that offer a luxurious dining experience. Here are some of the top high-end restaurants in Tulum:
Casa Banana

– A rustic, chic Argentine steakhouse serving up high-quality meats, grilled seafood, and delicious cocktails.

Casa Jaguar

– A jungle-inspired restaurant and bar serving up wood-fired dishes, fresh seafood, and creative cocktails.

Kin Toh

– A stunning restaurant located within the Azulik Hotel, featuring a treetop dining room and creative, gourmet dishes.

Mezzanine

– A Thai-inspired restaurant and lounge offering panoramic views of the beach and ocean, with a menu featuring fresh seafood and other Asian-inspired dishes.

Gitano

– A jungle-inspired restaurant and mezcal bar with a menu featuring wood-fired dishes, fresh seafood, and creative cocktails.

Arca

– A contemporary Mexican restaurant with a menu featuring wood-fired dishes, fresh seafood, and an extensive cocktail menu.

Hartwood

– A renowned restaurant that focuses on wood-fired cooking and the use of local, seasonal ingredients.

Nomade

– A beachfront restaurant offering a unique blend of Mexican, Mediterranean, and Middle Eastern cuisine, with an emphasis on locally-sourced ingredients.
These high-end restaurants in Tulum offer a luxurious dining experience and unique, creative cuisine. It's worth noting that many of these restaurants require reservations in advance, so be sure to plan ahead if you're interested in dining at one of them.
When is the best time to visit Tulum
The best time to visit Tulum is during the dry season, which runs from November to April. During this time, the weather is warm and sunny with very little rainfall, making it ideal for outdoor activities like swimming, snorkeling, and exploring the beaches and ruins.
The high season for tourism in Tulum is from December to February, so you can expect larger crowds and higher prices during this time. However, if you prefer a quieter and more budget-friendly vacation, the shoulder season months of May to October can also be a good time to visit. While it is the rainy season, the rain typically comes in short bursts and the temperatures are still warm. Plus, there are often fewer tourists during this time, giving you a more relaxed and authentic experience.
Keep in mind that hurricane season in Tulum runs from June to November, so it's a good idea to check the weather forecast before planning your trip and consider purchasing travel insurance in case of any unexpected weather events.