India is home to various super-spicy foods that leave your mouth tingly. If you're traveling to India and appreciate spicy food, you're in for a treat. In India, food is an integral part of a social occasion and serves as a way of life. And what better way to experience this colorful country than by trying its spicy foods, from fiery curries to incredibly tangy drinks?
The Top 10 Super Spicy Indian Dishes
When visiting India, plenty of restaurants serve delicious dishes, so feel free to try something new, including:
Vindaloo
Vindaloo is a popular Indian spicy dish originating in Goa. The word Vindaloo has its roots in Portuguese cuisine and was introduced to India by the Portuguese. The original recipe for this dish was called carne de vinha d'alhos, which translates to "meat in garlic wine." The name of this Indian spicy food has evolved from Carne de vinha d'alhos to Vindaloo.
The main ingredients in Vindaloo are pork or chicken, potatoes, and tomatoes. Other components include garlic, ginger, vinegar, onions, and turmeric, giving the dish its bright yellow color.
Chicken Chettinad
Chicken Chettinad, an Indian spicy chicken dish, is a unique combination of spices and flavors, making it a popular dish in India. The dish originated in the Chettinad region of Tamil Nadu.
The dish consists of chicken, tomatoes, onions, ginger, garlic, and spices like chili powder, coriander, and fennel seeds.
This dish goes well with rice or roti (Indian flatbread) and yogurt or as a side dish to another curry dish.
Phaal Curry
This dish is as fiery as it sounds. It tops in the world's hottest curry. There's no easy way to eat phaal curry. Prepare yourself for a burning sensation on your tongue, lips, and throat. It's the kind of heat that makes you sweat but is also addictive. Once you've tried phaal curry, you'll want it repeatedly.
Its main ingredients are chicken or lamb, onions, garlic, ginger root, tomatoes, chilies, coriander seeds, and spices like turmeric and cumin seeds. The dish uses the world's hottest pepper like habanero, scotch bonnet, and ghost peppers.
Chicken 65
Chicken 65 is a super-spicy Indian dish you should try when visiting the country. It's a spicy chicken dish made by frying chicken pieces until crispy and coating them in a spicy marinade made from yogurt, chilies, ginger, garlic, and lemon juice. It goes well with a tangy sauce. Buhari Hotel in Chennai, India, was the first to serve it.
Laas Maas
Laas Maas is a dish that originated in Rajasthan and has become a popular street food throughout India. Preparing curry requires various spices, including coriander, cumin, ginger, and red chili powder.
It's a spicy meat dish with a unique flavor. Laas Maas has mutton or goat, which has been marinated overnight in a mixture of spices, yogurt, and other ingredients, green chilies. It has different elements, such as onions, tomatoes, garlic, and ginger. The herbs used to make this dish include coriander, cumin, and mustard seeds.
If you love spicy food, you must try this on your next visit to India.
Rista
It's a traditional Kashmiri dish with meatballs cooked in rich tomato puree. The meatballs are minced lamb mixed with spices like ginger, garlic, cumin, coriander, and red chili powder. They cook the meatballs in the gravy until tender and flavorful, and the sauce is thick and rich. You can have this delicacy with steamed rice or naan bread.
Rista is a spicy and comforting dish perfect for cold winter days. When visiting India, ensure you try this famous dish in Kashmiri cuisine, which locals and visitors enjoy.
Andhra Chili Chicken
Looking to try more than the standard Indian food when visiting India? Try Andhra chili chicken. It's a dish with a lot of heat and flavor. It's a popular dish from Andhra Pradesh in South India made with chicken, plenty of green chilies, and a mixture of spices. It's spicy and tangy and may serve as a starter or snack.
Spicy Aloo Sabzi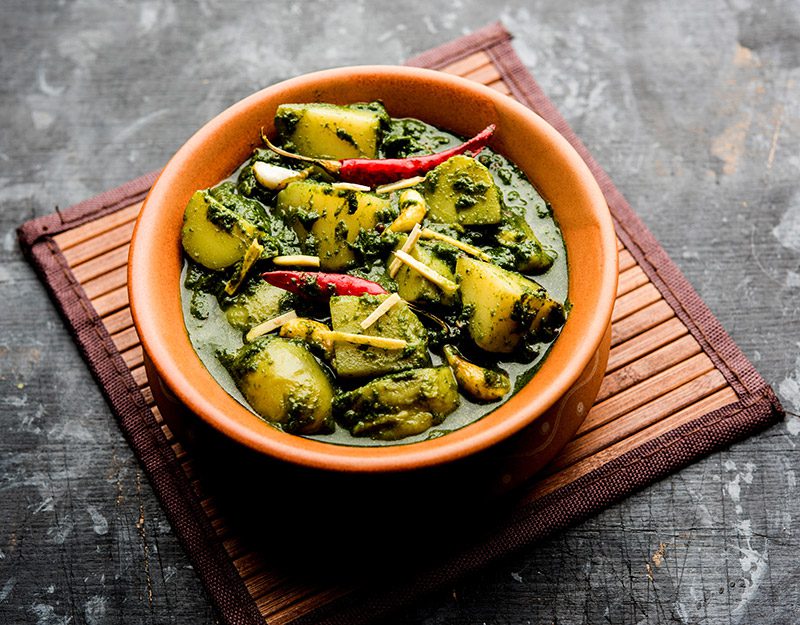 If you plan to visit India, spicy aloo sabzi should top the list of your foods. It's a delicious potato dish known for its spiciness. It's a popular vegetarian dish made with potatoes and a blend of spices. It's easy to make and goes well with roti, paratha, or rice.
The spice level of aloo sabzi varies from mild to spicy depending on the chili powder or red pepper used. The spices used in this dish include coriander powder, cumin powder, turmeric, and red chili powder.
If you love spicy food, try this food for a fiery kick.
Saoji Chicken curry
This dish is a spicy dish you should try when visiting India. Saoji Chicken Curry is a spicy and flavorful dish popular in Nagpur in Maharashtra. However, you'll find it all over the country. They make it with a unique blend of spices, including poppy seeds, sesame seeds, coconut, black pepper, bay leaves, and cinnamon, which gives it a rich and complex flavor.
Mirchi Vada
Vada is a savory Indian snack made with green chilies stuffed with potato filling and deep-fried. It's spicy and crunchy.
Make Your Visit to India Memorable by Trying Out This Super Spicy Food
India is one of the most exciting culinary destinations in the world. And if you're a fan of the heat, there's no better place to go than India, where spicy food is an art form.
Indian food is different for everyone. Some people like the heat, some tolerate it, and some are immune to heat. Still, if you don't like spicy food, you can find something you love and won't have to tolerate too much spice. The best way to know what suits you best is to venture and try various dishes on your trip to India.