Los Angeles falls at the center of the nation's film and television industry. It has featured in countless films and hosts the iconic Hollywood sign, with a litter of production studios, including Universal and Warner Brothers, plus the many celebrities that live here. This city is undoubtedly an exciting location that draws thousands of visitors annually.
On top of this, LA has a lot to offer on the tourist scene. But with the glitz and glamor, you might be thinking that the city of stars has nothing to offer for budget travelers who want to experience a little of LA before their departure.
You will be happy to know that you are wrong! Like most good locations, LA is accommodating to people with limited funds. There are many places you can visit and activities you can participate in without breaking bank in Los Angeles.
So whether you are a new resident looking to learn more about your town or is a visitor wanting to explore affordably, you will find the information below helpful because it explores,
The Top Free Things To Do In LA
Walk Hollywood Boulevard
If this is your first time in LA, you need to head down to Hollywood Boulevard and see what you have seen on TV. The area hosts many attractions, including the Hollywood walk of fame, the iconic TCL Chinese Theater's exterior, and vendors with maps to the stars. You can also see the iconic Hollywood sign that will hopefully make you interested enough to go on a hike.
Promenade along the Venice Canals
The Venice canals are where you go when you need charming views and cute surprises. It is a stunningly scenic area that is so different from the glamor and bustle of LA. It features three canal-lined blocks where you can walk and get views of lovely vegetation, pedestrian arching bridges, and beautiful beach houses. The occasional duckling and dog swimmers may also grace your presence during your visit.
Experience the museums for free
There is a litter of museums all over LA, and while most of them charge a fee for entry, there are special days when you can get in for free. Most museums allow free access to visitors at least once a month, so if you plan the dates right, you can explore well. Most do it on the second Tuesday of the week but look up the dates before going.
Walk the Santa Monica Pier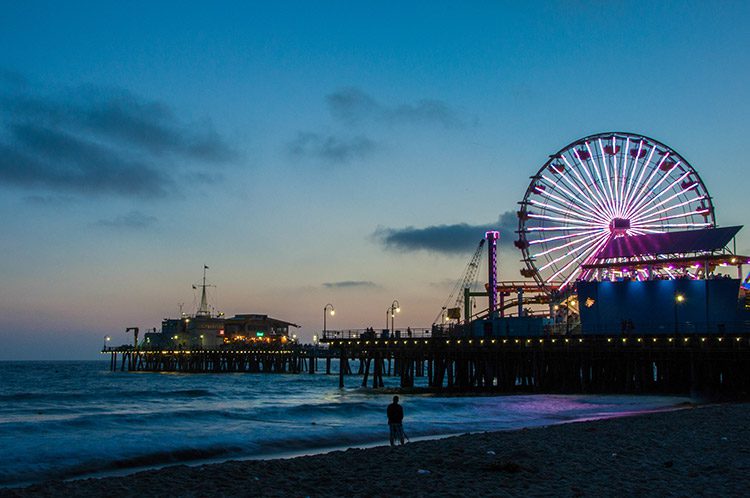 The Santa Monica Pier and beach has been open since the 1900s and welcomes people of various ages. The beach is free to enjoy, and you can stroll down the pier to meet a series of kiosks, restaurants, and street entertainers on any day. You will also see the lively amusement park from the pier to inspire you to plan a day trip with your friends.
Catch views at the Griffith Observatory
On clear sunny days, a Griffith Observatory trip should be enjoyable. The observatory is in Griffith Park, where visitors can enter for free except during special hours and events. You will catch stunning panoramic city views from the observatory, including the mountains, ocean, and even famous buildings. It is an ideal trip for people of all ages, including the kids.
Visit the Korean Bell of Friendship
This picturesque location hosts a replica of the Emmille Bell of South Korea. It was a gift from South Korea to the US Government. Thus this cultural-historical location is the best place to get picturesque views as you fly a kite or enjoy the weather. The bell is rung on the first Saturday of the month, so plan well to catch this activity.
Sunbath at Zuma Beach
You can pick any public beach in LA for a day of fun, sand, and sun. We narrow it down to Zuma Beach, where you can watch surfers do their thing, sunbathe, get a taste of the ocean, or play in the sand. This is a great activity, especially if you have kids, and you can bring your own food to save on costs.
Meditate at the Lake Shrine
The Self-Realization Fellowship Lake Shrine is a stunning 10-acre garden that offers its visitors peace and tranquility. The gardens are free Wednesday through Sunday, and you can join others as they quietly stroll through the tranquil location, meditating and getting lost in your thoughts. It is also a pretty romantic place to spend with your loved one; afterward, you can get some food.
Explore the Runyon Canyon Park
If you feel energetic, you can take a trip to the Runyon Canyon Park, just two blocks from Hollywood Boulevard, to explore the hiking trails and see plenty of palm trees. At the top, a stunning view of the San Fernando Valley awaits while the path promises several old mansions and estates scattered throughout the park. You may even meet a celebrity jogging, so keep your eyes open!
Shop at Grand Central Market
You can visit the Grand Central Market to get more in touch with LA cuisine affordably. You have the option of window shopping if you are just stopping by. But tasting some food is the best way to experience the market.
There are multiple vendors representing different cultures. It has a lively atmosphere, and the food here is considerably cheaper than you would find in the city. Try the egg sandwiches, tacos, and chow mein to start, or go all out and get a taste of everything.
Curb curiosity at the California Science Center
The California Science Center should be a stop if you have kids and a curious mind. It is a world of fun characterized by permanent exhibits such as the Ecosystems section. You can also visit the Creative World section to learn about transport and architecture.
And be sure to hit the famous Air & Space section where you can see the famous Gemini 11 capsule plus a special exhibit on the Endeavor Space Shuttle. Special exhibitions will demand a fee, but it is an excellent experience even without the special shows.