Think you need to visit Italy or France to see a vineyard in action? Think again! The U.S. wineries are winning awards – and fans – every year.
And they're not all in California. Sure, Napa and Sonoma get most of the credit. But wineries all over the country are producing smooth, sumptuous, award-winning bottles. Oregon and upstate New York, especially, get credit for producing world-renowned wines.
So whether you're a wine connoisseur or just learning to distinguish a chardonnay from a shiraz, we've got you covered. Pack your lucky corkscrew and get ready to explore some of the country's top wines – and wineries.
Cielo (Malibu, CA)
Like many of the country's top wineries, Cielo is located in California. However, instead of popular Napa or Sonoma, it is located in beautiful, sunny Malibu, just 30 minutes from Sacramento.
The Cielo Estate is set amidst gently rolling hills, majestic oaks, and Tuscan-style buildings. In fact, the winery is so stunning that Wine Enthusiast Magazine voted Cielo one of its top ten wedding venues in the country. A visit to the Cielo Estate is about much more than just a wine-tasting, it's a chance to relax and unwind in the beautiful panorama that surrounds you.
Cielo specializes in white and sparkling wines, although they have also produced a selection of high-quality red wines.
What to Try: Their 2017 Sauvignon Blanc has won multiple "Best of Class" awards. It starts with an energized citrusy aroma of a grapefruit, lemon and lime paired with the sweetness of pear, mango and melon. It ends with the clean, refreshing notes of fresh herbs.
For something different, try their "Celebrate" sparkling wine. Hints of pear, candied apple, and citrus give it a lively, fresh flavor that is perfect for whatever you want to celebrate!
Dr. Konstantin (Finger Lakes, NY)
Heading over to the east coast, you'll find the deliciously tempting Rieslings from New York's Finger Lakes region. One renowned producer of these wines, Dr. Konstantin Frank Winery, on Lake Keuka has been named to the Top 100 Winery of 2019 (Wine & Spirits Magazine) and 10 Best Tasting Rooms in America (USA Today).
The winery was founded by Dr. Frank in 1958, and is now run by third- and fourth-generation family members. Not only were they the first to introduce vinifera varieties, including Riesling, to the region, but their vines are also the 2nd oldest Pinot Noir in the U.S.
What to Try: Their sharp Rieslings have been winning awards for years. Try the Eugenia Dry Riesling 2019, an exceptionally dry wine characterized by its distinctive notes of pineapple, stone fruits, and key lime.
Their 2016 Brut is an exceptional sparkling wine. This winery was the first in the region to produce a sparkling wine using the méthode champenoise, and they have only gotten better. The vibrant aromas of baked red apple, ginger, and wildflowers combine with the brightness of lemon curd and apricot for a young, creamy delight.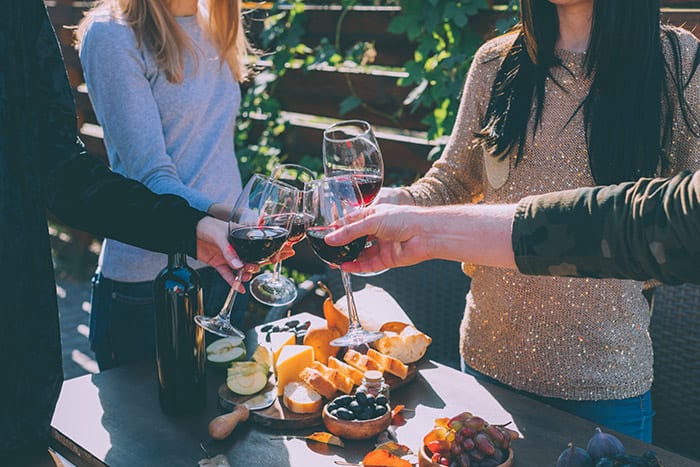 Duckhorn (Napa, CA)
You simply can't do a wine tour in Napa Valley without including Duckhorn Vineyards. Established in 1976, it was one of the first 40 wineries in Napa. From its modest beginnings, producing just around 1,600 cases, it is now sold all over the world.
Duckhorn Vineyards prides itself on providing a sophisticated tasting experience, from the airy estate house with its wrap-around patio to the tableside wine service. The veranda offers gorgeous unparalleled views of St. Helena and its vineyards.
The winery has always favored Bordeaux-varietal wines. Its merlot is particularly recognized, and its Cabernet Sauvignons are well-recognized, too.
What to Try: Their 2014 Duckhorn Vineyards Merlot was named the #1 Wine of the Year by Wine Spectator, receiving 95 points. This full-bodied wine was one of the first single-vineyard merlots produced in California. It is known for its complexity, combining dark red fruit flavors with mineral layers, and finishing with a subtle sweet oak.
The 2017 Duckhorn Vineyards Rutherford Cabernet Sauvignon layers juicy blackberry and blueberry notes with sage and violet. Its signature dusty tannins combine with currant, vanilla and clove for a smooth, supple finish.
Kramer Vineyards (Willamette Valley, OR)
Outside of California, Oregon is probably the most well-known state for winemaking. With over 700 wineries, scenic Willamette Valley is known for producing excellent wines. Its milder weather is particularly suited to cool climate grapes, especially the region's signature Pinot Noir.
Kramer Vineyards is a 2nd-generation family winery that has been producing excellent wines for over 30 years. They planted their first vines – Chardonnay, and Riesling, and Pinot Noir in 1984. Just two years later, they added Pinot Gris and Muller-Thurgau vines.
Kramer Vineyards' tasting room is located in Gaston, OR, just 30 miles from Portland. Tasting flights of 5 wines can focus on whites, reds, sparkling, or flagship wines.
What to Try: The 2016 Pinot Noir Cardiac Hill was awarded 95 points. It receives high praise for its earthy, savory aromas, including cherry, cranberry, with a hint of spice (from chili) and oak.
The 2018 Pinot Noir Heritage is sourced from the vineyard's original Pinot Noir vines, planted in 1984. Your palate will appreciate the dark berry fruits that finish with lasting spicy flavor.
The 2017 Chardonnay Estate was awarded 91 points. It combines the bright, juicy flavors of peach, pear, pineapple, and lemon in a smooth, crisp medium-light body wine.
Francis Ford Coppola (Sonoma Valley, CA)
There are dozens of celebrity winemakers, but none of them produce such consistently delectable wines as Francis Ford Coppola.
But Francis Ford Coppola's sprawling estate is much more than a winery or event venue. Their slogan is "Cinema, Wine, Food, Hideaways & Adventure" – and they live up to it! Designed as a place for family and friends to gather, the winery includes a swimming pool, bocce ball courts, and an entire gallery of authentic movie memorabilia, as well as wine tasting bars and two restaurants.
Francis Ford Coppola Winery produces a wide variety of wines. However, like most of Sonoma, it is most known for its Cabernet Sauvignon. Their Chardonnay and Rosé wines are also highly regarded.
What to Try: The 2017 Archimedes Cabernet Sauvignon, the estate's flagship wine, is named after Coppola's Uncle Archie. This dramatic, sophisticated wine is a showstopper, with a lush, velvety texture and the sweet spiciness of cassis, gingerbread as well as juicy plums and berries.
The 2017 Sofia Blanc de Blancs, Coppola's tribute to his daughter, has received 92 points. It blends Pinot Blanc, Muscat and Riesling into an elegantly refreshing wine. Its mellow flavors include apples and pears with a touch of citrus fruits and honeysuckle.
If you've never visited a vineyard, don't be intimidated. Wine tastings are the perfect way to step into the world of wine. These top-notch wineries will introduce you to new flavors and aromas, and teach you how to fully experience and appreciate them.