Wine has been an integral part of human culture for thousands of years, with its roots tracing back to the ancient civilizations of Mesopotamia and Egypt. Over the centuries, the art of winemaking has evolved into a complex process that brings together science, tradition, and passion. From the sun-kissed vineyards of Italy to the rolling hills of France, wine is celebrated around the globe for its ability to bring people together and elevate the dining experience.
In this blog post, we will embark on a journey through the world of wine, with a special focus on the wineries, varietals, and scenic splendor of California. So pour yourself a glass, sit back, and let's explore the captivating realm of wine and the Golden State's most enchanting wine regions.
A Brief History of Wine
The origins of wine can be traced back to the ancient world, where it was believed to be a gift from the gods. Archaeological evidence suggests that the earliest winemaking took place around 6000 BC in the area now known as Georgia, with other ancient winemaking sites found throughout the Mediterranean and Middle East.
Over time, wine production spread throughout Europe, with the Romans playing a significant role in advancing winemaking techniques and introducing the beverage to new regions. As European explorers and settlers traveled the globe, they brought grapevines and the art of winemaking with them, leading to the establishment of vineyards in regions such as South America, South Africa, and eventually, California.
Types of Wine
Wine can be broadly categorized into five main types: red, white, rosé, sparkling, and fortified. Within these categories, there are countless varietals, each with its unique characteristics, flavors, and aromas.
Red Wine: Made from dark-colored grape varieties, red wine derives its color from the grape skins, which are left in contact with the juice during fermentation. Some popular red wine varietals include Cabernet Sauvignon, Merlot, Pinot Noir, and Syrah.
White Wine: Produced from green or yellow-skinned grapes, white wine does not involve contact with the grape skins during fermentation. This results in a lighter color and a different flavor profile than red wine. Examples of white wine varietals include Chardonnay, Sauvignon Blanc, Riesling, and Pinot Grigio.
Rosé Wine: This wine style is made from red grapes but has a shorter skin contact period during fermentation, giving it a pink hue and a delicate flavor profile that falls between red and white wine. Popular rosé varietals include Grenache, Sangiovese, and Pinot Noir.
Sparkling Wine: Famed for its effervescence, sparkling wine undergoes a secondary fermentation process that traps carbon dioxide bubbles within the liquid. The most well-known sparkling wine is Champagne, which originates from the eponymous region in France. Other examples include Prosecco from Italy and Cava from Spain.
Fortified Wine: This type of wine has additional alcohol, usually in the form of grape brandy, added during or after fermentation. This process increases the wine's alcohol content and imparts unique flavors. Examples of fortified wines include Port, Sherry, and Madeira.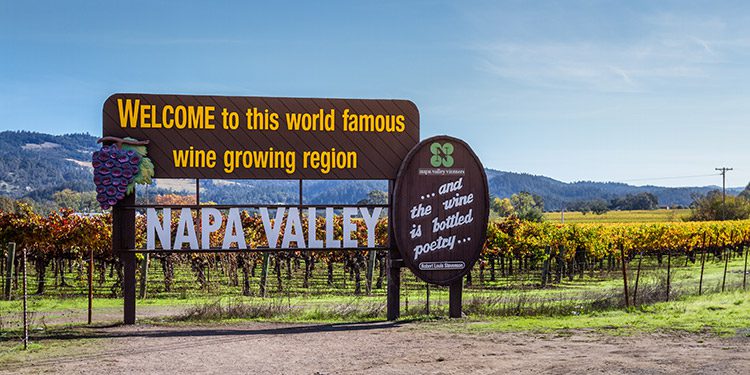 California's Wine Regions: Where to Visit
California is home to some of the world's most renowned wine regions, boasting a diverse range of climates, terroirs, and grape varieties. Here are four must-visit destinations for any wine lover:
Napa Valley: Often considered the crown jewel of Californian wine country, Napa Valley is home to more
than 400 wineries and is known for producing some of the world's finest Cabernet Sauvignon and Chardonnay. With its picturesque landscapes and luxurious accommodations, Napa Valley offers an unparalleled wine-tasting experience. Must-visit wineries include Domaine Carneros, Opus One, and Stag's Leap Wine Cellars.
Sonoma County: Just west of Napa Valley lies the expansive Sonoma County, which boasts a diverse array of microclimates and more than 60 grape varieties. From the coastal influence of the Russian River Valley to the warmer climes of Dry Creek Valley, Sonoma County offers a wine-tasting adventure for every palate. Top wineries to visit include Jordan Vineyard & Winery, Ridge Vineyards, and Francis Ford Coppola Winery.
Paso Robles: Located halfway between San Francisco and Los Angeles, Paso Robles is a burgeoning wine region known for its bold reds, such as Zinfandel, Syrah, and Cabernet Sauvignon. With a more laid-back atmosphere than Napa and Sonoma, Paso Robles is perfect for a relaxed wine country getaway. Be sure to visit wineries like Daou Vineyards & Winery, Tablas Creek Vineyard, and Justin Vineyards & Winery.
Santa Barbara County: Nestled along the Central Coast, Santa Barbara County benefits from the cooling influence of the Pacific Ocean, making it an ideal region for growing Pinot Noir, Chardonnay, and other cool-climate varieties. The picturesque towns of Santa Ynez, Los Olivos, and Solvang offer charming wine-tasting experiences in a relaxed, scenic setting. Don't miss wineries like Alma Rosa Winery, Sanford Winery, and Sunstone Vineyards & Winery.
Wine Tasting Tips and Etiquette
As you embark on your Californian wine odyssey, keep these wine-tasting tips and etiquette in mind to ensure an enjoyable and memorable experience:
Plan ahead: Research the wineries you'd like to visit, as some may require reservations or have limited hours. It's also a good idea to map out your route and designate a driver or book a guided tour to ensure safe and stress-free transportation.
Take your time: Wine tasting is an experience to be savored, not rushed. Plan to visit no more than three to four wineries per day to avoid palate fatigue and allow ample time to appreciate each destination.
Ask questions: Don't be afraid to ask your tasting room host about the wines, winemaking process, or any other inquiries you may have. They are there to educate and enhance your tasting experience.
Take notes: Jotting down your impressions of each wine can be a helpful reference for future purchases or to track your evolving palate.
Don't feel obligated to finish every pour: If a particular wine doesn't suit your taste, it's perfectly acceptable to pour the remainder into the designated spittoon or dump bucket. This practice also helps to prevent overindulgence.
From the sun-drenched vineyards of Napa Valley to the cool, coastal breezes of Santa Barbara County, California's wine regions offer an unforgettable journey for wine enthusiasts of all levels. As you sip your way through paradise, remember that the world of wine is vast, ever-changing, and ripe for exploration.
Whether you're a seasoned wine connoisseur or a casual enthusiast, California's wine country is sure to captivate your senses and leave you with lasting memories. So raise a glass, toast to the art of winemaking, and let your Californian wine odyssey be a journey of discovery, passion, and pure enjoyment. Cheers to sipping through paradise, and may your quest for the perfect wine be a rewarding and enlightening adventure!
Pairing Wine with Food
One of the greatest pleasures of wine lies in its ability to enhance a meal, creating a harmonious union of flavors that elevate the dining experience. As you delve deeper into the world of wine, consider experimenting with food pairings to discover new flavor combinations and unlock the full potential of your wine selections.
When it comes to pairing wine with food, a few general guidelines can help steer you in the right direction:
Balance: Aim for a balance between the weight and intensity of the wine and the dish. A delicate white wine may be overwhelmed by a rich, hearty dish, while a full-bodied red wine could overpower a light, delicate dish.
Complement or Contrast: Consider whether you want to complement the flavors in your dish or create a contrast. For example, a creamy, buttery Chardonnay could complement a dish with similar flavors, like lobster in a cream sauce, while a crisp, acidic Sauvignon Blanc could provide a refreshing contrast to a rich, fried dish.
Regional Pairings: Often, wines from a specific region pair well with the local cuisine. For instance, a bold California Cabernet Sauvignon may pair beautifully with a grilled steak, while a zesty Italian Pinot Grigio might be the perfect match for a seafood pasta dish.
Experiment: The rules of wine pairing are not set in stone, and personal taste plays a significant role in determining what works best for you. Don't be afraid to get creative and try unconventional pairings; you may just discover a new favorite combination.
Exploring Beyond California
While California is undoubtedly a premier wine destination, the world of wine extends far beyond the Golden State's borders. As you continue your wine journey, consider exploring other renowned wine regions, such as France's Bordeaux and Burgundy, Italy's Tuscany and Piedmont, or Australia's Barossa Valley and Margaret River.
Each of these regions offers a unique perspective on winemaking, showcasing the influence of climate, terroir, and tradition on the final product. By broadening your wine horizons, you'll gain a deeper appreciation for the rich tapestry of flavors, styles, and stories that make up the global wine landscape.
Final Thoughts
The world of wine is a fascinating realm of history, culture, and sensory delight. As you journey through California's enchanting wine country and beyond, remember that the true magic of wine lies in its ability to bring people together, spark conversation, and create lasting memories.
So as you sip your way through paradise, savor each moment, embrace the spirit of discovery, and let your love for wine be a guiding light on your path to new adventures, friendships, and unforgettable experiences. Cheers to the world of wine and the endless possibilities that await you!