Greece, with its idyllic beaches, rich history, and mouthwatering cuisine, has long been a popular summer destination for travelers from around the world. Boasting over 6,000 islands and a mainland steeped in ancient history, this Mediterranean paradise offers an endless array of experiences for every type of traveler. In this comprehensive guide, we'll introduce you to the top destinations to visit in Greece during the summer, the delicious local dishes you must try, and the refreshing drinks that will keep you cool under the Mediterranean sun.
Top Greek Summer Destinations
Athens
No trip to Greece would be complete without a visit to Athens, the country's bustling capital and the cradle of Western civilization. Explore the iconic Acropolis, home to the world-famous Parthenon, and immerse yourself in the city's rich history at the Acropolis Museum and the National Archaeological Museum. To enjoy stunning panoramic views of Athens, take a leisurely stroll up to Mount Lycabettus, or head to the vibrant Monastiraki neighborhood for shopping, dining, and entertainment.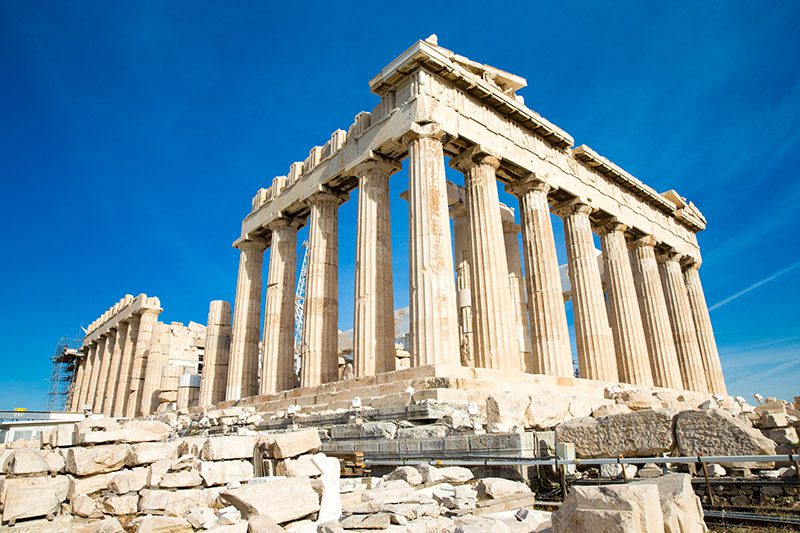 Santorini
Renowned for its white-washed buildings, blue-domed churches, and stunning sunsets, the island of Santorini is a must-visit destination for any Greek summer vacation. Wander through the picturesque villages of Oia and Fira, visit the ancient ruins of Akrotiri, and sample the island's famous wines at a local winery. Don't forget to spend some time on the island's unique black sand beaches and take a dip in the crystal-clear Aegean Sea.
Mykonos
Known for its cosmopolitan atmosphere and vibrant nightlife, Mykonos is the perfect destination for those seeking a lively summer vacation. Spend your days lounging on the island's beautiful beaches, such as Paradise and Super Paradise, or explore the charming streets of Mykonos Town, filled with boutiques, restaurants, and bars. To experience the island's history, visit the nearby archaeological site of Delos, the birthplace of Apollo and Artemis, and one of Greece's most important ancient sites.
Crete
As Greece's largest island, Crete offers a diverse range of experiences, from breathtaking beaches and dramatic landscapes to ancient ruins and charming villages. Discover the legendary Minoan Palace of Knossos, hike the awe-inspiring Samaria Gorge, or visit the Venetian harbor town of Chania. For a true taste of Cretan hospitality, head to the island's rural villages and indulge in the local cuisine at a traditional taverna.
Corfu
Nestled in the Ionian Sea, the lush island of Corfu boasts a fascinating blend of Greek and Venetian influences. Wander through the cobblestone streets of Corfu Town, a UNESCO World Heritage Site, and marvel at the island's stunning architecture. Spend your days exploring the island's numerous beaches, such as Paleokastritsa and Sidari, or venture into the verdant countryside to visit the picturesque villages of Lakones and Kassiopi.
Greece's Delectable Summer Cuisine
Souvlaki
This classic Greek dish features skewers of marinated and grilled meat, typically pork or chicken, often served with pita bread, tzatziki sauce, and a side of fresh vegetables. Souvlaki is a popular street food in Greece and can be found at numerous tavernas and food stalls throughout the country.
Moussaka
Moussaka is a beloved Greek dish made with layers of eggplant, minced meat (usually lamb or beef), and a creamy béchamel sauce. This rich and flavorful dish is a staple in Greek cuisine and can be found in restaurants and tavernas across the country.
Greek Salad
A refreshing and healthy option, the Greek salad, also known as "horiatiki," consists of ripe tomatoes, cucumbers, red onions, Kalamata olives, and feta cheese, all drizzled with olive oil and seasoned with oregano. This simple yet delicious salad is a must-try during your summer vacation in Greece.
Dolmades
These delicious stuffed grape leaves are a popular appetizer in Greek cuisine. Filled with rice, herbs, and sometimes minced meat, dolmades are usually served with a side of tzatziki or a lemony avgolemono sauce.
Spanakopita
This savory spinach and feta cheese pie is a classic Greek dish, made with layers of buttery, flaky phyllo dough. Enjoy spanakopita as an appetizer or a light lunch during your summer travels in Greece.
Grilled Octopus
As a Mediterranean country, Greece is renowned for its fresh seafood, and grilled octopus is a favorite among locals and visitors alike. Tender and flavorful, this dish is often served with a side of lemon and olive oil, making it a perfect summertime meal.
Refreshing Greek Drinks to Savor
Frappé
This frothy iced coffee is a popular summertime drink in Greece, made with instant coffee, sugar, water, and ice, all shaken together to create a refreshing and energizing beverage. Enjoy a frappé at a seaside café or take it to-go as you explore Greece's beautiful landscapes.
Ouzo
An iconic Greek spirit, ouzo is a strong, anise-flavored liquor often enjoyed as an aperitif. Typically served with a side of meze, small plates of appetizers, ouzo is meant to be sipped slowly and enjoyed with friends.
Retsina
This unique Greek wine has been produced for over 2,000 years and is made with the addition of pine resin, giving it a distinctive flavor. Retsina is an acquired taste, but it's definitely worth trying during your summer vacation in Greece.
Tsipouro
Another traditional Greek spirit, tsipouro is a distilled grape-based liquor similar to Italian grappa. It is often enjoyed as a digestif after a meal or served with meze in the early evening.
Greek Iced Tea
For a non-alcoholic option, try a refreshing glass of Greek iced tea. Made with herbal tea, such as mountain tea or chamomile, and sweetened with honey, this cold beverage is perfect for cooling off on a hot summer day.
Conclusion
Greece offers an unforgettable summer experience, with its stunning islands, ancient historical sites, and vibrant culture. As you explore the country's top destinations, make sure to indulge in the delicious local cuisine and sample the refreshing beverages that make Greece a true Mediterranean paradise. Whether you're lounging on the sandy shores of Mykonos or wandering the ancient streets of Athens, a summer vacation in Greece is sure to be a trip of a lifetime.