When you think of New York, you instantly think, oh wow, that's going to be expensive. And that's understandable because so many places in New York charge upwards of $50 for a little tour on a boat or bus. But it does not have to be that way. An expert traveller can find hidden gems that don't cost much. Here are some incredible places that you can visit without spending a single cent.
1. Visit the Famous African Burial Ground
In 1989, while digging to construct 34 story federal building, researched uncovered intact human skeletal remains located 30 feet below the city's street level on Broadway. Upon further excavation they uncovered a 6-acre an African Burial Ground that contained more than 15,000 intact skeletal remains of enslaved and free Africans worked and helped build New York. Researchers date the burial site from the 1630 to 1795 and is the earliest African burial site discovered in the U.S. Come and see how African's helped build New York. Attendance is free.
2. Bushwick Collective
Located just off Flushing Avenue and a 7-8 minute walk from the nearest train station Jefferson Street (L train), the Bushwick Collective is NYC's most prolific neighborhood for street art and graffiti. While some people may qualify street art as vandalism, this cultural phenomenon will change your mind. It contains some of the best local artists: Never, Nekst, 4 Burners, Cost, Revs, Enx, Mast, as well as artists from all over the world who leave their mark on this wild and imaginative street. The weekend and nights can get crowded so the best time to visit is during the day. As you might expect walking along a street is free so take your time and enjoy this one of a kind art exhibit. If you like a more guided experience you also have the pay-what-you-like tours.
3. Chelsea Galleries
Visit one of over 40 shops that sell incredible art pieces at Chelsea Galleries. Travel to the Chelsea neighborhood at around 20th street and experience some of the most sought-after artists offering their talent to the world. Feel free to go in and ask the curators about the artist and they will be happy to tell you all about the artist in the hope that you will walk away with a masterpiece. Some galleries are by appointment early so if there is an artist you have been dying to see, plan ahead. Consider attending on Thursday evenings as occasionally, galleries will open with wine and cheese for the public.
4. Go Check out the Federal Hall
In the heart of the financial district stands the Federal Hall building. A rich building of important historical significance that is dwarfed by the adjacent New York stock exchange. This building is the birth of American government and definitely worth a visit. In 1789, George Washington was inaugurated as the first president there. It also houses the first Congress, Supreme Court, and Executive Branch offices. Since then, the building has been converted into a memorial and museum to our first President and the birthplace of the United States of America. Don't miss the huge statue of George Washington along with the bible he used to take the first oath.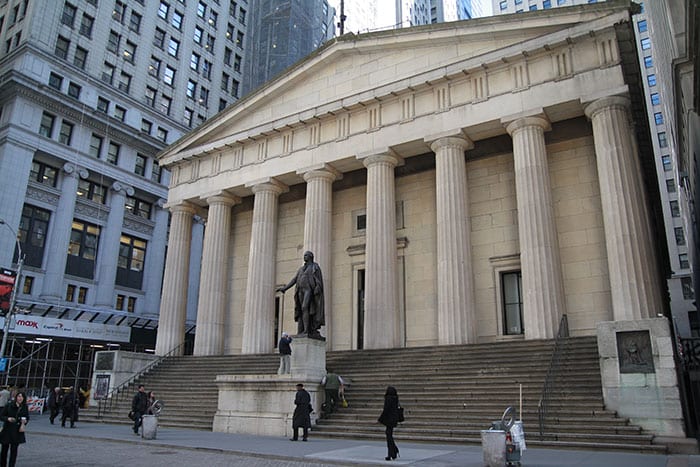 5. High line
If you walk underneath the High Line you won't even notice it is overhead. What was once an industrial railway fell into disuse and was a terrible eyesore for residents. After 10 years of planning, in 2009, the High Line park opened up to the public. The 1.5 mile park provides a welcome respite to the hustle and bustle of New York City and is home to over 500 species of plants and trees. This natural place in the middle of the concrete jungle will surely let your creativity run wild. The is a place to reimagine what a city full of greenery can be.
6. Outdoor pools
New York City can get scorching hot and humid during the summer. And what better place to cool off than a pool? And not just any pool but an Olympic-sized swimming pool. Bring a lock for your valuables, grab some free sunscreen and jump in the water. Located in Brooklyn, Red Hook Pool is across the river from the Statue of Liberty. If you can't swim, don't worry, New York offers some free swimming classes so be sure to check that out.
7. New York Public Gallery
The New York Public Library is a network of 92 libraries but when people refer to the New York library they mean the Main Branch located at Bryant Park with the main entrance is on Frith Avenue and 41st street. There are four stories of the building that you can browse the 2.5 million books in the stacks. A National Historic Landmark, a National Register of Historic Places site, and a New York City designated landmark, this marvelous Beaux-Arts style building opened in 1911 and was the combination of two older libraries. The building is flanked by two lions Patience and Fortitude and are the basis for the library's icon. The main reading room is almost the size of a football field with 52-foot-high ceilings. This backdrop for numerous TV shows and movies is free and definitely worth your visit.
8. Take a ride in the Staten Island Ferry
There are two ways to take a closer look at the Statue of Liberty. You can pay a private company to take you or you can take the Staten Island Ferry for free. It takes 25 minutes for the Staten Island Ferry to make the 5-mile voyage between Whitehall street in lower Manhattan and St. George Terminal in Staten Island. The ferry runs all day every day in 30-minute intervals during off peak and 15 minute intervals during peak times. Since 1997, there is no charge to ride the ferry if you are transferring from a bus or subway using your MetroCard. With 25 million passengers, the Staten Island Ferry is the single busiest ferry route in the United States. The ferry is also popular among tourists because of all the movies filmed on the ferry as well as the beautiful views of the Manhattan skyline and the Statue of Liberty.
9. Queens County Farm Museum
The Queens County Farm Museum is one of the oldest continuing farms in the United States as it began back in 1697. You will be surprised that this farm is run by the New York City Department of Parks & Recreation. The active farm stretched out over 47 acres and boasts livestock, farm vehicles, a historic farm building, a greenhouse complex, an orchard, a herb garden and even planting fields. So why not venture out of the city and explore this historic farm. This hour and half subway plus bus ride from Manhattan is a great place to take the kids.
10. Shakespeare at the Park
Impressive Broadway performances in New York are truly incredible if you don't mind burning a hole in your pocket. A free alternative is Shakespeare in the Park located at the Delacorte Theater in Central Park. The theater is accessible by entering at 81st Street and Central Park West or at 79th Street and Fifth Avenue. Over 50 years ago, Joseph Papp thought that people from all walks of life should be able to experience theater as a public good, much like library books. So ever since, people have been lining up at noon each day for free tickets that same evening. There are standby tickets and also ADA and over 65 year old tickets. All summer long you will be treated to incredible performances in a very intimate theater in the heart of central park.
11. Photoville
Your Instagram should be filled with images after you visit Photoville. Photoville is a free, public outdoor space located under the Brooklyn bridge on the Brookly side. The popup exhibit that has ever-changing visual images on display for art aficionados. It connects people by juxtaposing educational programming with inspiring works by up and coming artists. take a stroll into one of the many repurposed ship containers to find your favorite exhibit. Be sure to check the website as the army of volunteers do a fantastic job of switching the images around.
12. Spend your weekend at Industry City
We are huge fans of the city of Industry City in Brooklyn. Once an industrial complex, it is now an immersive space with companies, restaurants, and retail shops right on the water. The former site of a huge manufacturing and distribution hub, now has some of the best 35 acres of waterfront real estate. The repurposed old structures leaves you wondering about the countless lives that used to work there day in and day out. It has everything you can imagine, art exhibits, salsa nights, yoga classes and outdoor movie exhibitions, no visit to this complex will ever be the same.
So arm yourself with a metrocard and explore all of the free things that the city has to offer. And experience New York from a different perspective that does not break the bank.