POPPIN' PESTO
Vibrant and just as rich in color as is it flavor. The trio aphrodisiac combination of basil, olive oil and pine nuts will enhance performance in the bedroom and allow you to keep it Poppin' all night long.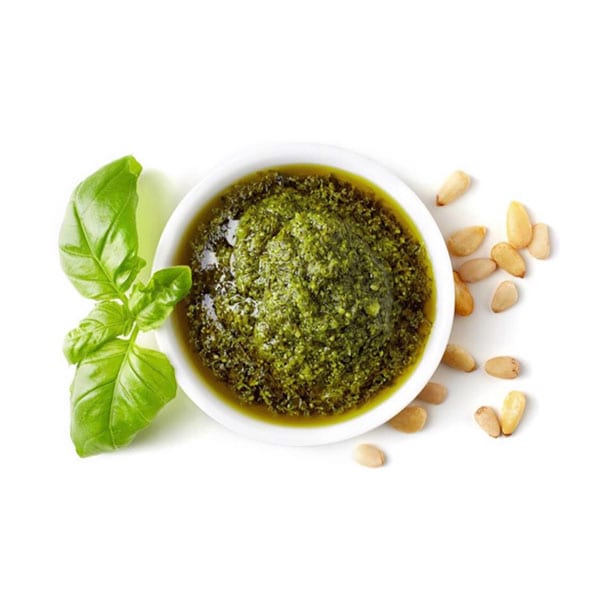 INGREDIENTS
2 Cups fresh basil
2/3 cup Chic Chef Co., premium olive oil
¼ cup pine nuts
2 garlic cloves
Pulse pine nuts in a food processor until they're completely broken down. Stop to scrape down the sides of the bowl with a spatula from time to time. Add olive oil and garlic and pulse until garlic is finely chopped.
Chop basil very roughly just run a knife through it once or twice to cut most of the leaves into halves then add to food processor. Pulse, stopping every 15 seconds to push the leaves down with a rubber spatula, until basil is entirely worked into the oil. Pulse for another few seconds, and then stop to prevent turning the basil brown.
Pour pesto base into a bowl and add grated cheese and salt. Stir to combine, then taste and adjust seasoning as needed. Leave the sauce thick to toss with cooked pasta and a little pasta cooking water. To use the pesto for grilled or roasted meats, fish and vegetables, thin it out with 2 to 3 more tablespoons olive oil until it's the consistency of a loose paste. To store leftovers, pour a little more olive oil over the pesto to cover. Refrigerate in an airtight container for up to three days.
Fun Facts!
In the Roman times basil was royal and a luxury. Basil also, was symbolic to love and meant unity and perception. The aromatics of basil was sad to drive Men WILD so, the woman would rub or dust their breast with basil.
Pine nuts, just like Oysters and Salmon stimulate the libido. Pine nuts were used in the medieval times to create love potions.
Olive Oil is great for Men because it increases blood flow, makes the heart healthy and increases hormone production. Also, olive oil does wonders for the skin.
More about Nik Fields, Celebrity Chef, Author, Philanthropist & Entrepreneur
Chef Nik, better known as "Nik the Chic Chef or "Foodie with a Cause" has gained national recognition for her amazing culinary art skills having prepared cuisine for celebrities, Jess Hilarious, Supa Cent, Angie Stone, Vivica Fox, Tisha Campbell, Tichina Arnold, Snoop Dog, Sharon Stone, Tony Goldwyn, Famke Janssen, Shar Jackson, and Pittsburg Steelers linebacker Vincenzo Williams. Chef Nik is also personal chef to Phoenix Cardinals football player, Chris Johnson (CJ2K) as well as many others. Her amazing cooking skills have also landed her in People Magazine, "The Doctors" on NBC, HGTV, Bravo, and VH1. Nik Fields' philanthropic efforts to provide food and clean water to villages in the Dominican Republic has garnered international acclaim. Her nonprofit organization Waste Not Want Not (WNWN Inc.) encourages households and restaurants to limit food waste.