Mallorca, the dazzling jewel in Spain's Balearic Islands crown, offers a perfect blend of relaxation and adventure, captivating history, and mouth-watering cuisine. Nestled in the turquoise waters of the Mediterranean Sea, Mallorca presents an idyllic location to unwind, explore, and immerse yourself in the vibrant Spanish culture.
Historical Heart
Mallorca is not just about shimmering waters and sunny beaches; its rich historical canvas beckons travelers seeking a deeper cultural immersion. Visit Pollença in the north, with its charming cobblestone streets, quaint houses, and the famous 365-step Calvari staircase leading to a stunning hilltop view.
Don't miss the prehistoric Talaiotic settlements scattered across the island. The most impressive are Capocorb Vell and Ses Païsses, where you can witness the remnants of these Bronze Age cultures.
In Palma, the Museu de Mallorca offers an insightful look into the island's past, from Roman mosaics to Moorish ceramics and Baroque paintings.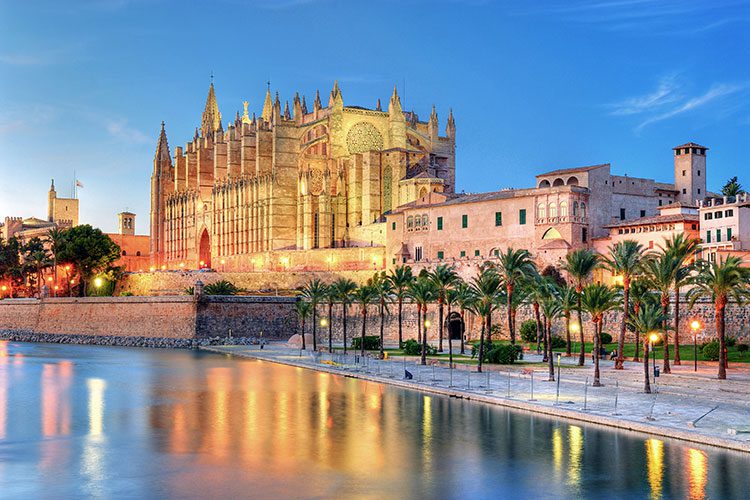 Endless Exploration
Your Mallorcan journey should start in Palma de Mallorca, the island's charismatic capital. Here, the majestic Gothic Palma Cathedral, known as 'La Seu', presides over the city's skyline, offering captivating views of the sea. Nearby, the winding streets of the Old Town are home to architectural gems like the Arab Baths and the historic 10th-century Almudaina Palace.
A visit to the town of Sóller, accessible by a vintage train ride, unveils charmingly narrow streets and the Modernista-style church of Sant Bartomeu. Nestled in a lush valley, Sóller also serves as a gateway to hiking and mountain biking trails in the Sierra de Tramuntana mountain range, a UNESCO World Heritage site.
Sandy Sojourns
Mallorca's beaches are nothing short of spectacular. Cala Llombards, located on the southeastern coast, is a beautiful sandy cove framed by rocky cliffs. It's perfect for those seeking serenity and crystalline waters.
For something livelier, Playa de Muro is a six-kilometer-long beach with azure waters and a wide variety of water sports. Es Trenc, often referred to as Mallorca's Caribbean beach, offers over two kilometers of pure white sand and clear turquoise water.
Pristine Paradises
Away from the crowd, Mallorca's natural parks offer a tranquil retreat. Mondragó Natural Park, a haven for bird watchers, boasts stunning coastal paths and secluded bays. The Cabrera Archipelago Maritime-Terrestrial National Park, only accessible by boat, is a group of 19 islands and islets where you can encounter indigenous wildlife and enjoy marine biodiversity.
Whether you're a beach lover, an avid hiker, a history buff, or a gastronome, Mallorca ticks all the boxes for an unforgettable vacation. The island's unmatched charm, cultural richness, and Mediterranean grace make every moment spent here nothing less than extraordinary.
Gastronomic Wonders
Mallorca's gastronomy is a delightful fusion of Spanish, Mediterranean, and North African flavors. Enjoy the classic ensaimada, a spiral-shaped pastry dusted with powdered sugar, at Fornet de la Soca in Palma. For lovers of seafood, the coastal village of Port d'Andratx offers restaurants like Urbano, where you can relish the freshest catch of the day.
Wine enthusiasts should head to Binissalem, the heart of Mallorca's wine country. Visit the Jose L. Ferrer winery, one of the oldest on the island, to taste some exquisite local varieties.
In Palma, head over to Marc Fosh – a Michelin-starred restaurant serving innovative Mediterranean cuisine. For authentic Mallorcan flavors, visit Ca'n Pedro in Genova, known for its home-style cooking.
For tapas, head over to Tast Club located in the heart of Palma. Its vintage decor and refined tapas menu make it a must-visit for food lovers. A trip to Mallorca is incomplete without savoring a glass of local wine at one of the island's vineyards; Bodegas Miquel Oliver and Macià Batle come highly recommended.
Beach Escapes
Mallorca's coastline is dotted with over 200 stunning beaches. Cala Figuera, a narrow fjord-like bay, offers a picturesque spot to relax. Sa Calobra, a pebble beach with its turquoise waters surrounded by dramatic cliffs, is another natural wonder.
Families will enjoy Cala Millor, a popular resort beach with a long stretch of golden sand, shallow waters, and a bustling promenade packed with restaurants and shops.
Outdoor Adventures
Mallorca is an adventurer's paradise with an array of outdoor activities. The Serra de Tramuntana mountain range is a hotspot for hiking, biking, and rock climbing. The Ternelles Valley trek or the trail from Deià to Lluc Monastery are popular among hiking enthusiasts.
For water sports enthusiasts, the Bay of Alcúdia offers excellent conditions for windsurfing and kitesurfing. Scuba divers can explore the underwater caves and vibrant marine life around the island.
Mallorca is an island that enchants every visitor, irrespective of their interests. The splendid beaches, exquisite cuisine, fascinating history, and exciting outdoor activities make Mallorca a world-class destination that truly has it all. The mesmerizing island continues to create unforgettable experiences for everyone lucky enough to visit.