If you want to try Mexican food, but cannot tell where to start from or what would make it typical and adventurous, then today marks the end of your search. Different meals make your travel experience unique, fun, and memorable.
What you will find on this list is the typical Mexican food you mostly bump into on the streets. Some of them define Mexican culture, and it could turn out to be a tasty learning moment for you. Keep scrolling for more.
1. Pozole
Pozole is a traditionally made pre-Hispanic soup. It is prepared for long hours—sometimes overnight. Made with hominy corn, red chiles, pork shoulder or shanks, this dish is served hot and topped with lettuce, onions, lime, avocados, and radishes.
For a spicier taste, add chilies or hot sauce. Enjoy with your friends and family. If everything isn't cleared, preserve the leftovers in a refrigerator, ensuring that you leave some air to prevent burning.
2. Tacos
This list would be undoubtedly incomplete without tacos! The food has several recipes that you should explore. First, there's tacos al pastor, the most popular Mexican dish you'll encounter on the streets. It is made of pork strips, put into a tortilla, and served with coriander, a piece of pineapple, or onions.
Guisado style tacos is another one. Served in ceramic pots, this type of tacos contains stewed ingredients. Finally, there are carnitas tacos. Carnitas means 'little meats.' Its origin is Michoacán state, and it comprises shredded pork which is slow-cooked and served with tortillas, salsa, refried beans, onion, and coriander leaves. You could try each one of them or go for what excites you.
3. Chilaquiles
Start your morning in style with this traditional breakfast meal. Cooked in red or green salsa, chilaquiles contain fried corn tortillas.
Serve with fried or scrambled eggs and sprinkle chilly on top to make it spicy. You could also have it as brunch and add beef, chicken, guacamole, or refried beans.
4. Mole
Have you ever had food with over twenty ingredients? Mole is one of the most exciting foods that exist in varieties; Amarillo, negro, chichilo, coloradito, Mancha menteles, and colorado.
Despite the many recipes, all mole dishes have chilli, fruit, pepper, and nuts. Sometimes they even have chocolate and a couple of other spices. Serve with tortillas, beans, rice, or veggies. You might want to taste all mole recipes to determine which taste sits well with you; either spicy, sour, sweet, or all!
5. Guacamole
This famous traditional Mexican dip consists of onions, tomatoes, mashed avocados, chilli peppers, and lemon juice. Avocados, most likely, make the dish stand out. Therefore, if you plan to try out the recipe, go for soft avocados of good quality. Serve with a side dish or tortilla chips.
6. Tamales
Tamales are another Mexican street dish that will leave you craving for more. It consists of a corn-based dough which is stuffed with cheese, beans, or meat. When cooking, experts cover the tamales in banana leaves or corn husks. Add pico de gallo and serve with guacamole and rice on the side. Don't eat the wrappings. Discard them!
7. Elote
You'll likely hear an 'elote' chant along the streets of the bustling Mexican City. It consists of boiled corn, smeared with mayonnaise, sprinkled with chilli powder, fresh lime juice, cilantro, salt, cheese, and sour cream.
The consumption style is more like that of ice cream since it is served on wooden skewers. Elote's taste is a mix of sweetness, savory, tanginess, and spicy.
8. Pan de Muerto
Pan de Muerto translates to 'bread of the dead.' It is usually for November 2nd celebrations that mark the Dia de Los Muertos, which means the 'day of the dead' in Mexico. You can mold it into different shapes, to make it more unique.
It is topped with dough in a bone shape. During this time of celebration every year, you'll find the bread packed in bakeries and supermarkets. Devour this delicacy as you learn about Mexican culture.
9. Mollette
Quench your hunger with this traditionally prepared Mexican sandwich filled with refried beans, salsa, and slices of serrano or jalapeno pepper, with melted cheese. Top it with chorizo, mushrooms, poblano peppers, or bacon for a fancier taste.
10. Tostadas
Just so you should know, it is going to be messy with tostada! The latter resembles a taco except that it is flat.
Tostada is a mixture of fried corn tortilla and various toppings such as cheese, salsa, refried beans, and much more. They are crunchy and golden when ready—you don't want to miss that!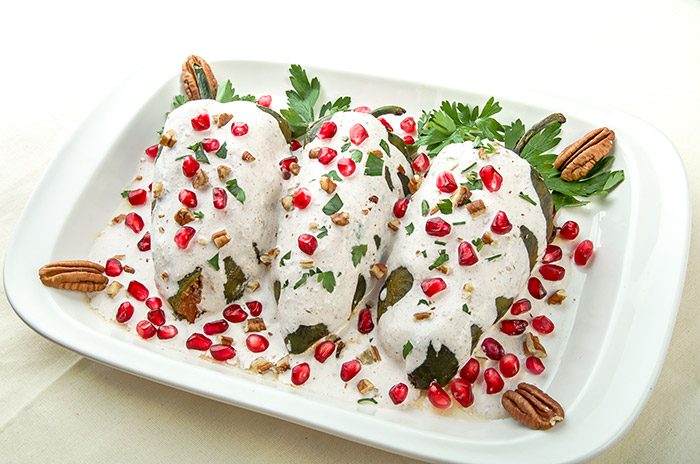 11. Chiles en nogada
This one tastes patriotic! Chiles en nogada is a combination of poblano chiles with a pile of picadillo (usually a mixture of dried fruits, spices, and meat). You can add toppings such as walnut-based cream and pomegranate seeds, making the meal depict the three colors of the Mexican flag -red, green, and white. Serve it at room temperature.
12. Pambazo
Pambazo is a typical Mexican sandwich made of a specific type of bread and filled with chorizo and potatoes. It is then dipped in guajillo sauce, fried for a crispy shell, and served with cheese, cream, and lettuce.
Historically, pambazo is originally from colonial times, where it portrayed social classes. Those of a higher social class would eat pambazo made of white flour, whereas the low class would eat brown flour. But that's all gone, so enjoy your preference!
13. Tlacoyos
Do you still remember tortillas? Tlacoyos are thick tortillas made of corn dough stuffed with pork, cilantro, cheese, nopales, and salsa. They take an oval or rhomboid shape but what will strike you more is the tasty flavor of this street delicacy.
They could be your go-to dish when you are in a hurry and need to fix a quick breakfast as long as you have all the ingredients. Alternatively, you could go for a ready-made one in the central states of Mexico.
Conclusion
If you are touring Mexico for the first time or just in the mood to explore Mexican food, try these 13 typical dishes the country has. Whether it is a snack, brunch, or breakfast, the choice is yours to make.