With Valentine's day approaching, you may want to spend your day or weekend on a memorable getaway with your loved one. If you have resources to spare, why not plan a special trip for two? Get away from the cold and spend your special time somewhere warm.
There are small-town hideaways, seaside villages, and quiet mountain-top bed and breakfast joints just waiting for you and your partner. The getaway is ideal for sparking your relationship, bonding away from the distractions of the big city, and enjoying each other's company.
Therefore, keep reading to get ideas for creative romantic destinations ideal for a valentine's day weekend.
Romantic Valentine's Day Getaway Ideas 2022
1. Napa Valley Wine Country, San Francisco
Napa Valley Wine Country in San Francisco will always be one of the best places to go with your partner during Valentine's Day. The place is full of charming accommodations, and as the name suggests, you will have a lot of wine options during your trip. You can go on picnics with your sweetie, then visit a nice restaurant in the evening.
2. Florida Keys, Florida
If you and your partner love to sit back and relax, then the Florida Keys is the ideal escape. Not only will you catch the warm weather, but you can sunbathe, go diving, or even swim with the manatees. The nightlife is intoxicating, but you could always have a relaxing beach dinner if your day is too active.
3. New Orleans, Louisiana
If you love music and good food, then head to New Orleans. You can stay in charming rentals and catch up with live music in jazz clubs. Do not forget to try the famous beignets with some coffee in the charming cafes. You can also take a walk in the beautiful neon-colored streets at night, enjoying the calm, charming atmosphere.
4. Blue Ridge, Georgia
Are you an active couple that loves to explore the great outdoors together? Well, you can visit Blue Ridge and check-in at one of the many stunning accommodations. Then you can go on a romantic hike in the Blue Ridge Mountains. Romantic restaurants are on every turn, and you can visit craft breweries for a little boozy treat.
5. Telluride, Colorado
Telluride, Colorado, is small, just eight blocks wide and twelve blocks long. This is ideal for couples that want an intimate bonding trip with lots to do. You can stay at the charming rentals then head skiing or snowboarding. You can also go on a gondola ride together for a stunning view of the beautiful scenery.
6. Whitefish, Montana
This mountain town is an ideal picturesque getaway right near Glacier National Park. The place is very romantic, and even an episode of The Bachelor was filmed here. You can spend afternoons on the ski slopes or go on a horse-drawn sleigh ride in the evenings. You can also enjoy a steak dinner with love music and theatre.
7. Berlin, Maryland
Berlin is a small town on the eastern shore of Maryland. It is the perfect place for you and your partner to enjoy movie-like activities, including visiting upscale boutiques and antique shops. You can also enjoy treats at the charming bakeries and cafes. You should also take your partner to the shoreline to see wild ponies roaming the dunes.
8. Amelia Island, Florida
Expect 13 miles of lovely beaches and a calmer feel than the wild side of Florida. Amelia Island offers an old-fashioned romance ideal for partners who like to relax, spend quiet time together, and take walks. You can go on horse-drawn carriage rides. Additionally, you can explore the art, and cultural spots then enjoy some seafood cuisine.
9. Hershey, Pennsylvania
Visiting the place where the chocolate Kisses originated from seems like a cliche, but the town is pretty charming. There are a series of dinners, tastings, and chocolate labs you can visit with your partner. You could even design your own sweet pleasures, a fun bonding activity for couples that love to indulge in something sweet.
10. Seneca Falls, New York
While you will still have to dress warmly, Seneca Falls is an ideal place to cuddle up with your partner in a charming room. You can visit the many local wineries for some locally-made wine. You can also visit the charming Seneca Falls for a lovely stroll followed by a picnic. And finally, you can spend the evenings in a quiet restaurant with a nice dinner.
11. Lambertville, New Jersey
While New Jersey is not known for romance, the small town of Lambertville on the Delaware River is ideal for couples seeking a little alone time. The downtown has multiple antique shops, galleries, and coffee shops that you can visit on lovely bike rides during the day. If you guys love shopping, you will enjoy treasure-hunting at the Golden Nugget flea market.
12. Kennebunkport, Maine
The best thing about this lovely town in Maine is that they go all out for Valentine's day. You will get special hotel packages in cozy and private areas. Additionally, there are many themed events you can participate in. The restaurants are especially accommodating to couples. And you can take a stroll on the empty beaches and in the snow-dusted forests.
13. Asheville, North Carolina
Take your loved one on a scenic trip up to Asheville. The North Carolina town is characterized by dramatic landscapes that hide couples in colorful flora, lively music, and great food. The town offers a mix of adventure and relaxation. You can go on morning hikes together, then explore Biltmore Estate in the afternoons. Be sure to reserve your evenings for music and dinner.
14. Sedona, Arizona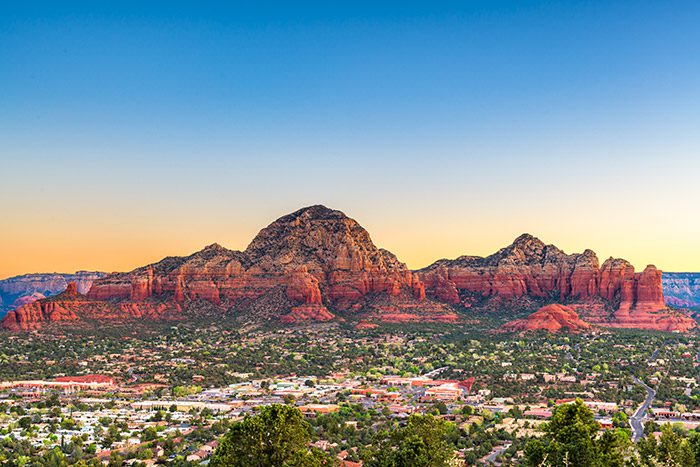 You can visit Sedona for the spectacular landscapes but stay for the many romantic activities available. For starters, you could sign up for a lovely helicopter ride with your special one over the stunning red rock formations. You could also go on a day cruise on Lake Saguaro. And if you love adventure, rent an ATV for an off-roading adventure.
15. Fairbanks, Alaska
And finally, if you can splurge on your trip, head to Fairbanks to see the northern lights. And while you are there, you can go snowmobiling or cross country skiing. And don't forget to dip in the thermal springs to keep yourselves warm.