You might be anticipating your next travel point to be Newport Beach, CA, but unsure of where to go and some of the things to do there. Well, Newport Beach is rich with lovely scenery, and the list of pleasurable activities you can engage in is endless.
For instance, paddle boarding at Pirate Coast Paddle Company, watching whales at Newport Landing, learning about nature at the Environment Nature Center, or anything you love. Explore more of these places in detail below.
1. Newport pier
Located in the middle of Balboa Peninsula in Newport Beach, this 1,032 feet structure is an excellent place to go fishing or walking. You could also engage in other fun activities such as surfing, swimming, and sunbathing.
You'll have a beautiful view of pelicans, seagulls and experience the warm and cool Mediterranean weather in Southern California. Newport pier offers a breathtaking sight of Huntington Beach, the Dory Fishing Fleet, and the Balboa Pier. Additionally, if cycling and skating excite you, Newport Pier is your ideal place.
2. Balboa Peninsula
Welcome to the most renowned landmark in Newport Beach. Sandy beaches, the Pacific Ocean, and a harbor are some of the physical attractions you'll find on this iconic three-mile stretch of land.
Initial inhabitants named the place after Vasco Nunez de Balboa,–a famous Spanish explorer. Enjoy surfing in the ever-inviting waves. If you are a surfing novice who wants to learn, take classes at Endless Sun Surf School.
And that's not all. If your stomach growls for food, grab a plate of seafood at Dory Deli or dine at Lighthouse Bayview Cafe. You can also have a glass of wine from Stag Bar, Malary's Irish pub, Mutt Lynch's, Blackie's by the Sea, or Chihuahua Cerveza.
3. Balboa Island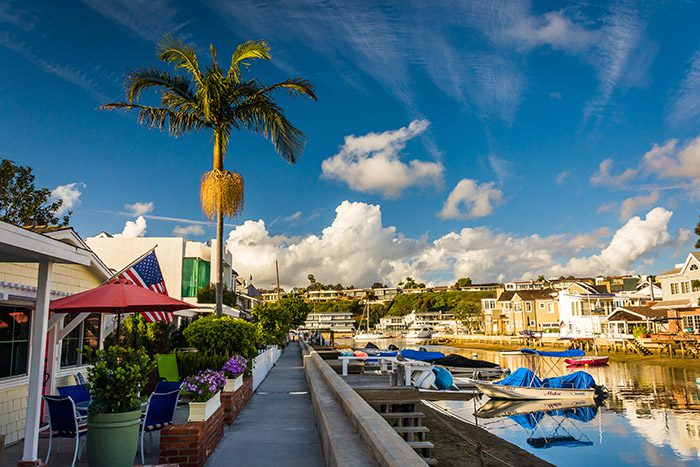 Balboa Island is undoubtedly one of the best places to go to in Newport Beach. There are many fun activities you can do here, ranging from shopping to dining. You could join the Island Paddle Club and have an unrivaled paddling experience on the Island or go boat riding and kayaking. Balboa Island is also exceptionally known for real estate. It could be one of the amazing places to buy your dream home. Take a trip there and make your dream come true.
4. Upper Newport Bay Nature Preserve
Do you love watching birds? The Upper Newport Bay Nature Preserve is a habitat for nearly 200 bird species, making it the best destination for bird watching. It also has a variety of native plants, mammals, and fish. Horseback riding, biking, and hiking are other fun things to do here.
5. Environmental Nature Center
This 3.5-acre center was founded in 1972. Surrounded by beautiful scenery marked by nature, the Environmental Nature Center is an ensemble of wildlife habitats, plant ecosystems, and walking trails.
It's also an educational center with enriching programs for children. Additionally, you can rent a space for a wedding, party, or meeting and have great fun as you interact with nature together with friends, family, colleagues, and partners.
6. Balboa Village
There is a line-up of exciting things to do at Balboa Village. These include sport fishing, whale watching, dining, shopping, kayaking, boat riding, or paddling. You could have a taste of a slice of pizza from Pizza Pete's or enjoy yummy sushi at San Shi Go. Make a stop at Balboa Saloon and quench your thirst with some crafted beer.
7. Peter and Mary Muth Interpretive Center
The Peter and Mary Muth Interpretive Center is among the hidden places in Newport Beach that you should check out. Visitors stream into this historical, educational facility to learn about the estuary; the life inside and outside it.
Through guided water and walking tours, you will enjoy looking at some interactive displays and exhibits. You will understand and appreciate the existence of the estuary while having a lifetime moment.
8. Fashion Island
Fashion Island is the best place for shopping in Newport Beach. This place contains over 100 boutiques and brand name stores such as Nordstrom, Macy's, Bloomingdales, and Neiman Marcus.
You will also have an impeccable culinary experience ranging from Japanese sushi, American Pizzas, burgers, and seafood. Chinese and Italian restaurants are also available. You can also get entertained at The Lot Movie Theater and pass by the Whole Foods Market on the way out for your grocery shopping.
9. The Spa at Pelican Hill
Relieve your body, soul, and spirit of stress at The Spa at Pelican Hill and have an incredible experience. Experts will attend to you. Their services will align with your needs, and their products are organic. Body therapy, massage, and advanced aesthetics are some of the treatments available at this spa. So pack your bags and travel to The Spa at Pelican Hill for an exclusive self-care experience.
10. Pirate Coast Paddle Company
If you are looking for a place to make unforgettable memories with your family and friends, then the Pirate Coast Paddle Company is your go-to place. Whether you are a beginner or expert in paddleboarding, Pirate Coast is ideal for everyone.
You can take lessons to learn how to paddleboard. The environment is also favorable for kids as they learn about paddleboarding through a five-day kids' camp. You will feel safe, comfortable, and still enjoy it!
11. Newport Landing Whale Watching Company
Take a tour to Newport Landing Whale Watching Company and have one of the best whale watching experiences. Imagine an aesthetic scenery of a multitude of whales, dolphins, sharks, and other marine life swimming and diving in the waters. It is one of those thrilling experiences that you probably will never get enough of.
12. Sherman Library and Gardens
The Sherman Gardens is an alluring abode for a variety of horticultural plants. Some of the collections you will find here include 130 unique types of begonias, more than 100 species of palms, a tea garden, and even an artistic succulent garden.
Make this your next travel destination and get to smell sweet and natural fragrances, feel, and see a vast land of colorful flowers unwind before you. Additionally, the Sherman Library has over 10,000 books, a collection of photographs, art, and many more that tell the history of the Pacific Southwest. If you would like to know the history of California, Arizona, Mexico, visit this library and begin your research.
Conclusion
There are countless exciting things to do in various places in Newport Beach. Whether you want to swim, skate, paddle board, watch whales and other marine animals, enjoy nature walks, dine, shop, watch a movie, surf, learn, or anything that brings you joy, Newport Beach has got you. As you have read, there are a lot of places there to explore. So pick what interests you and start planning for your next travel destination.