If you're in the mood to explore scenic wildlife and historic forts or if you love discovering laid back towns and restaurants that tantalize your taste buds, then Idaho is the place to be! Idaho offers a wide variety of recreational opportunities, fun entertainment venues, and outdoor activities for all seasons. You'll find golf courses galore along the scenic Snake River, snow-covered slopes in winter, and hot springs to relax all year round. From tall waterfalls to the ancient petroglyphs that tell stories of Idaho's past, this state is ripe with natural wonders waiting for you to explore. Step into Idaho today!
Here's a list of some of Idaho's best towns for those who want an adventure.
1. Boise- Boise is the capital city and largest urban area in the state. It has all the qualities of a true capital city, hosting government services, museums, sports teams, theaters, world-class dining and shopping districts as well as many other attractions to keep you busy. Boise is well known for its surrounding mountain ranges, streams and rivers that sustain the city.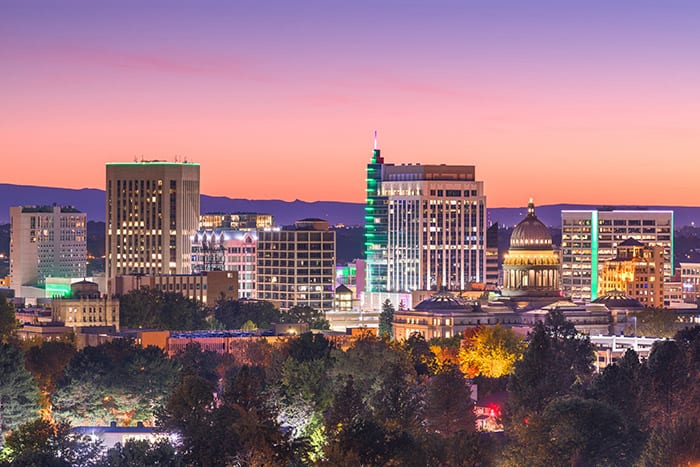 2. Coeur d'Alene- Located in the beautiful northern part of Idaho, Coeur d'Alene is one of the best cities for outdoor adventures and family fun. Families and nature enthusiasts can enjoy the plethora of parks and bike trails throughout this area, all without leaving the city limits. Coeur d'Alene is a wonderful area to visit because it is a great place for families with kids because it has so many parks and bike trails that are perfect for kids and adults. The weather is good year-round, but summer is the most popular season.
3. Sandpoint- With a vibrant downtown and a vibrant arts community, Sandpoint has a lot to offer visitors. It's also one of the best places to see wildlife with its abundance of lakes and wildflowers plus plenty of outdoor activities to keep you out there. Located on the shores of Lake Pend Oreille, Sandpoint offers a wide variety of outdoor fun and historic sites to explore. On the shoreline is an impressive monument to war veterans and visible from town is the majestic Schweitzer Mountain in a vibrant display of ever-changing hues. Sandpoint has plenty of lodging options and a variety of restaurants that allow you to step back in time to enjoy old fashioned homemade meals with exceptional service. The eclectic shops throughout downtown offer everything from unique jewelry and handmade clothing to handcrafted toys for children.
4. Lewiston- Lewiston is a college town, so if you're looking for a night out, this should be your best bet. Many bars and restaurants are found within the city that allows you to have a great time with friends or on your own. Lewiston has plenty of attractions as well as educational opportunities such as museums and historical locations that allow you to spend more time learning about the area's rich history.
5. Idaho Falls- Idaho Falls is known for its amazing natural resources and beautiful scenery. It's the perfect spot for nature enthusiasts. It's also very budget-friendly and offers a wide variety of activities from hiking, biking and cross country skiing to shooting sports and the brand new golf course.
6. Ketchum- This delightful town is perfect for those who love to be outside. If you're looking for a peaceful getaway, Ketchum is the place to go. Here you'll find numerous local wineries that offer tours and tastings under the stars and views of the Sawtooth Mountains. Ketchum also boasts an outdoor recreation center that offers horseback riding along with daily guided walks through scenic areas. For those who enjoy a night out, there's always lots of food and drinks to go around in this town.
7. Rigby – Located near Spokane and in the foothills of the Idaho Panhandle, Rigby offers a small town feel with all the advantages of living in a large metropolitan area. Life in Rigby is simple. Take advantage of life on a beautiful farm near the mountains, go trout fishing or skiing and take advantage of nearby recreation areas, shopping centers and casinos.