Is Hawaii your next adventure spot, but you are unsure where to go and what to do? This article features Maui and Oahu as some of the best places you could visit in Hawaii.
About the activities you can do, there are a lot of them. They range from kayaking, snorkeling, hiking, shopping, whale watching, helicopter tours, camping, and surfing. Dive deep into these fun engagements and find out what interests you the most.
Maui
Snorkeling and Kayaking


Kayaking around the shores of South Maui will give you an exciting experience as local tour guides share the history of the place with you. The activity and the beautiful scenery will probably carry you away as you ride on the water. Besides kayaking, you could go snorkeling and meet sea turtles.

Whale watching


Imagine what it would feel like to watch about 10,000 humpback whales swim. This breathtaking whale watching experience best happens between April and December.
You might embark on other fun activities such as the Maui whale festival, film festival, and whale counts during the whale watch tours. Get there early when the ocean is calm to get the best experience.

Hiking with No Ka Oi Adventures


No Ka Oi Adventures will offer you the most thrilling hiking tour. Take a walk through the West Maui Mountains in the company of small groups and nature. Tread gently on the island as you have a glimpse and learn about Hawaii and the culture.

Camping


Maui has some of the best camping spots you should visit. The Hosmer Grove and Kipahulu campgrounds at Haleakala National Park would be a great spot to relax while visiting the national parks on Big Island.

Hosmer Groove is green, consisting of grass and a cluster of trees. At Kipahulu, there's Ohe'o Gulch with pools of fresh water gushing out of it. You could swim, hike, or marvel at the aesthetic view.

Taste local food


You don't have to eat your food at a fancy hotel with a classy ambiance when adventuring. You should try local food! Ululani's is one of the lovely places where you will find tasty flavors of local ice, such as calamansi lime, pickled mango, and lilikoi.

Surfing


Watching surfing gurus ride on big waves is among the most extraordinary things you shouldn't miss in Hawaii. Honolulu Bay and Ho'okipa Beach Park are among the popular surf spots in the area. You could join the pros and have some fun or learn by taking up surf classes.

Watch a Haleakala Sunrise


Does watching sunrise excite you? Well, you probably won't have trouble waking up at 2 a.m. to watch the beautiful rays of the sun shyly crack through the horizon and light up Hawaii. Bring your camera along for striking, memorable shots.

A heads up for you—watching the sunrise at Haleakala is something that attracts crowds. Make reservations as early as two months prior, to get a parking slot.

Swim like a mermaid


If you fancy mermaids and wish to swim like them, then Maui is your go-to place. With the help of a swim instructor, you will have a chance to put on a mermaid tail and write your mermaid story as you explore the waters.

You will learn about all about mermaids, and hopefully, satisfy curiosity. Furthermore, you won't have to worry about your story remaining under the waters because your instructor will help you capture these memories.

Tour the Molokini Crater


Are you a scuba diver or snorkeler? Welcome to Molokini Crater. It offers visibility of more than 180 feet, giving way to a fantastic view of thousands of fish swimming. It's the only place with lots of real fish which makes it a great place to tour. For a more thrilling and intimate experience, ride in a canoe, kayak, or boat.

Visit Paia Town


Paia Town has quite many exciting things running—culture and history intertwined. The place has one main road and could be the best alternative after excursions all day on Maui. It is an ensemble of art galleries, yoga classes, massage studios, low-key restaurants, and local shopping. Entertainment is also available at Charley's Saloon.
Oahu
Helicopter tours


A helicopter ride at Oahu while you enjoy the scenery of attractions like the Sacred Falls from an elevated perspective could be all you need to make your adventure memorable. There are both private and group tours. You could also choose to ride with the doors locked or open.

Shark cage adventure


Entering a cage and watching sharks below the water could give you an extra thrill as you experience an adrenaline rush. If that scares you, stay on the shore and watch the sharks from there. It is your opportunity to experience the magic, so do not forget your camera!

Hiking the Stairway to Heaven


This stairway has a total of 3,922 stairs with a handrail on both sides to clutch on. The giant stairways hang above a valley and could be another adrenaline rush experience. It could be dangerous, and some parts of it are off limits. However, it is a perfect spot to witness the Oahu sunrise.

Hiking at the Koko Head Stairs


Here's another hike opportunity, up the Koko Head Stairs to keep your heart puffing and panting. The walk could take thirty minutes to one hour, depending on your pace. It's one of the most famous hikes in Oahu that you can try. Get to experience some panoramic views at the Koko Head Crater summit. Tour guides are available if you need help.

Taste Acai berries on the North Shore


Acai bowls could serve as your best dessert at Oahu. They contain acai berries which have more antioxidants than other berries. Apart from acai berries, the bowls include other berries, granola, and other fruits. The dish is native to South and Central America. Grab one at Da Spot Health Foods & Juices.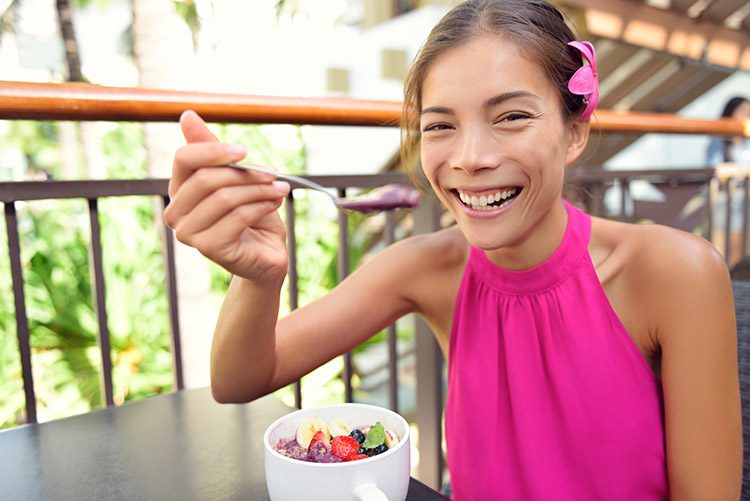 Conclusion
It's time to start putting together your necessary travel items and make a stop at Maui/Oahu in Hawaii. Sometimes memories are created by trying the most daring things like adventuring with the sharks and hiking at the Stairway to Heaven! Pick your travel destination and have fun!