It is that time of year when people in the northern hemisphere enjoy fresh coats of powder each day. The temperatures may be dropping, but there is so much potential to have fun in the snow.
From making snow angels to snowball fights with friends and family. And if you are feeling adventurous, you can take it up a notch by going sledding, skiing, or snowboarding at a fantastic destination.
The US is full of exciting places where you and your closest people can enjoy a day or two with chills and thrills. It is the perfect way to spend the long holiday or even start the new year.
There are well over 100 ski resorts and spots in the US. But not to worry, because we have narrowed down the list for you. Therefore, keep scrolling to discover the top 7 places to ski in the US.
1. Mammoth Mountain
Mammoth Mountain Ski Area is one of the best places to ski in the country. Located in California, the area presents spectacular views with fresh powder inches every winter. Visitors can happily go skiing and snowboarding on the 3,500 acres of land.
You get to the top of the mountain on cable cars, then ski down the beautiful mountain surrounded by cool air and dazzling white snow. Besides the thrill of skiing, visitors can also ride snowmobiles on excursions and enjoy scenic gondola rides.
Mammoth Mountain is also kid-friendly, offering bowling and live music activities. These activities are also ideal for breaks from the mountain. In winter, you can stay here for a week and enjoy thrilling activities and proximity to exploring surrounding areas. It is a worthy holiday idea.
2. Jackson Hole
Jackson Hole Mountain Resort is famous for thrilling skiing opportunities for an ample dose of adrenaline. It is located in Wyoming, boasting 2,500 acres of terrain. However, this location is for pro skiers and intermediates, so it is best to leave the first-timers out of this one.
The resort has well over 100 trails ideal for pros and intermediate skiers. This means you have 100 reasons to stay and explore the resort. The bowls and cliffs are nothing short of thrilling, making this the ideal ski spot for thrill-seekers.
Jackson Hole is not short of visuals either. Keep your eyes open as you ride the tram up the mountain for spectacular scenery. Many visitors have termed it a breathtaking view. The area outside the resort provides charming accommodation to those willing to stay and explore all the trails.
3. Big Bear
Big Bear Mountain Resort is another spectacular skiing spot in southern California. The resort supports skiing and snowboarding. It boasts the chance to ski or board down two mountains, Snow Summit and Bear Mountain. It is an opportunity you cannot pass on.
The best thing about Big Bear is that it is ideal for professionals, beginners, and everyone in between. Professionals can shred down mountains effortlessly, cutting through the cool air and completing epic runs—the same with intermediates, only less adrenaline.
Beginners can go on less challenging trails and still enjoy the thrill of the mountains. You can also bring your kids as the resort offers ski and ride lessons. In addition, you can sign up for a private or group lesson. There is something for everyone at Big Bear.
4. Park City Mountain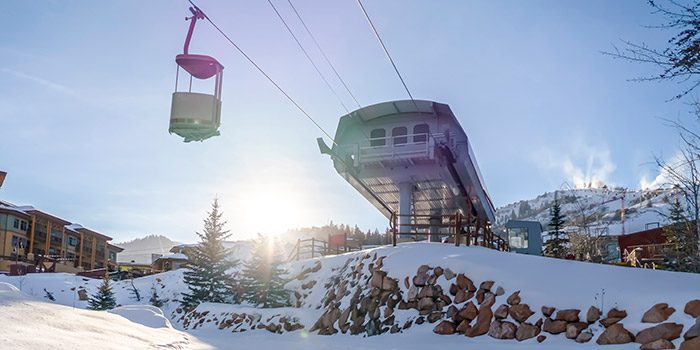 Park City Mountain is America's largest ski area. It is a whopping 7,300 acres of terrain covered in pillowy inches of snow located in Utah. Park City rightfully claims the nickname 'ski haven of the US' and offers something for everyone.
If you are an expert, you can find challenging terrain that will have you cruising at incredible speeds. There are 17 peaks, and most lean towards beginners and intermediates. Therefore, it is a beautiful spot for families and groups.
Park City is more than a ski area. It also presents an opportunity to learn about the history of the city. The evening comes with opportunities to participate in charming and romantic activities such as sleigh rides. The city also entertains with cafes, restaurants, galleries, and pubs.
5. Deer Valley
Closely affiliated to Park City, Deer Valley is the ideal spot for luxury skiing. This prestigious high-end resort welcomes skiers strictly for the opportunity at uncrowded slopes and spectacular accommodation.
Be sure to book early as the resort limits the number of skiers to enhance the experience. Every run will be crowd-free, lessening the chances of collisions. You get to experience the mountain and all its spectacular views on modern lifts before cruising down the slope.
Additionally, expect nothing but classy and high-end facilities, including lodges, restaurants, and bars. The food is spectacular, and the service is incredible. Deer Valley is ideal for honeymooners and couples.
6. Vail
Vail Ski Resort has been on the list of top ski reports for years. This must-visit ski resort boasts over 5,000 acres and almost 30 feet of snow each year. As a result, most people think of it when they picture skiing in the US.
There are several peaks in Vail, wide-open spaces, and big bowls where you can create your own tracks for a chance at a new experience. The extensive terrain makes it ideal for beginners and pros.
At the base is Vail town, a lively area with the promise of charming entertainment options, restaurants, and high-end boutiques.
7. Aspen
And finally, in Colorado is Aspen. This area is a notorious celebrity ski resort that draws in international visitors every year. The town is charming, but the mountains provide a significant challenge.
Snowmass, Buttermilk, Aspen Mountain, and Aspen Highlands are the four ski spots of Aspen, and each caters to all skill levels. Aspen has spectacular views at the top of the peaks, and you can always meet a celebrity or two.
Aspen town and Snowmass village have an effortless charm that draws hundreds of visitors each year. So after shredding the mountains, you can head to the base and enjoy the high-end bars and festivities. You can always bet that there will be a bonfire somewhere and smores with your name on it.