Are you considering going to the beach? Texas has those. A national park? Yes, Texas has one, in addition to some of the most well-known cities in the nation. It also has theme parks, including the first amusement park in the world for people with special needs. And not to forget museums and everything in between.
Finally, of course, the food, with its abundance of authentic Mexican cuisine and chicken fried steaks that fill entire plates, contributes to Texas' allure as a destination for family vacations. When planning your next family trip with kids, look at one of these Texas getaways.
South Padre Island
While vacationing in Texas, South Padre Island offers a variety of water-related activities, including dolphin tours and pirate cruises.
Other notables include South Padre Island Adventure Park, which offers horseback riding and zipline activities. You can also visit Sea Turtle, Inc., a rehabilitation facility for injured turtles, and Schlitterbahn Beach Resort. In addition, the popularity of vacation rentals on South Padre adds to the allure of a Texas family vacation.
Port Aransas
Beach camping is an enjoyable and peaceful family vacation, and you can find many opportunities for it in Texas.
Your little ones can construct sandcastles on the beach or go sport fishing at Mustang Island State Park in Port Aransas, a great beach camping location.
With Red Dragon Pirate Cruises, you can join a pirate-themed cruise at night and finish the day with a sumptuous seafood meal.
A beachfront links-style golf course, parasailing, birding, dolphin viewing, and kayaking round out this perfect family package. This is a lively location to come with the family, thanks to the additional festivals and activities.
San Antonio
San Antonio is undoubtedly attractive and one of the best family-friendly destinations in Texas. The River Walk is a maze-like network of streets lined with shops and delectable eateries. It is a great place to spend a whole family holiday.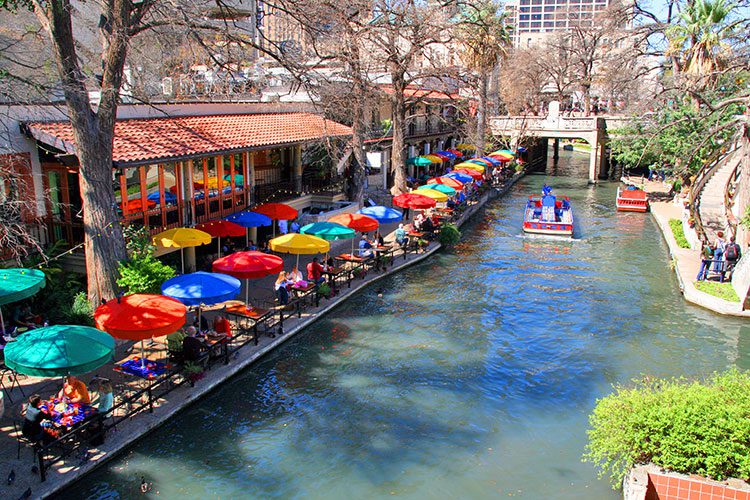 The Alamo, Six Flags Fiesta Texas, SeaWorld San Antonio, The DoSeum, and Morgan's Wonderland (the only theme park in the world created specifically for kids with special needs and their families) are just a few of the many attractions in this historic Texas city.
Austin
Austin is not only cool but also gorgeous. The gently undulating hills outside the city limits deserve a driving tour or an overnight stay at one of the opulent resorts buried away in the countryside.
The Thinkery is a welcoming children's museum for explorers, and Lady Bird Lake is where you can go hiking, biking, boating, and attend a concert. Austin is known as the World's Live Music Capital so take advantage of all the live shows if you love music.
Waco
Make a Texas family retreat from your shopping excursion with Magnolia Market's kid-friendly activities. The Dr. Pepper Museum, the Texas Ranger Hall of Fame and Museum, and Hawaiian Falls are additional family-friendly attractions in Waco. Of course, exploring downtown Waco is also enjoyable.
Amarillo
For the automotive enthusiasts in the family, this destination is a necessity! Amarillo's Cadillac Ranch is home to the most incredible collection of graffiti-covered, flipped cars.
Visit the Jack Sisemore Travel and RV Museum afterward, situated in the same Route 66 Historic District.
You can go on picturesque drives or browse antique shops. However, if your little ones are clamoring for more, head to Splash Amarillo or Wonderland Amusement Park with them. These destinations will make the trip one of the finest family vacations.
Galveston Island
Galveston Island is not just for pre-and post-cruise stays. The barrier island on the Gulf of Mexico is one of the greatest places to go on a family vacation in Texas on a budget. It is home to the Schlitterbahn Galveston Island Waterpark, the Galveston Railroad Museum, and the beach. You should also visit The Strand for a bite to eat and some souvenir shopping.
Grapevine
If you prefer to travel in the summer, there is no need to worry. The Gaylord has an indoor and outdoor pool area and a water park on-site called Paradise Springs. It is a 10-acre resort pool with a lazy river, water slides, and other attractions.
Scavenger hunts and kid-friendly pool parties are among the dining, shopping, and entertainment options available throughout the resort. And for the tired mom, the resort offers the Relache Spa, where you can spend some time for yourself.
Fort Worth
Visit the Fort Worth Stockyards Historic District to go back in time while strolling down cobblestone alleyways that lead to one of the country's oldest cattle shows. This is an affordable family vacation idea.
To experience a bit of Texan cowboy culture, visit the National Cowgirl Museum Hall of Fame and the Texas Cowboy Hall of Fame. Another must-see attraction is the Vintage Flying Museum.
Visit the restaurants along the way to sample delicious barbeque and other regional specialties. Buy souvenirs at the boutiques and gift shops to keep memories of your trip.
Big Bend National Park
Big Bend National Park offers outdoor enthusiasts everything from stargazing at night to picturesque driving, hiking, and biking throughout the day.
It is not difficult to imagine that the Rio Grande River's Hot Springs Historic District was a health resort favored for its natural springs. Some of the old buildings still have their mark, providing substantial proof.
This is a good destination if you are traveling with kids because there are Junior Ranger programs, ranger-led tours, and kayaking.
Corpus Christi
Corpus Christi, a coastal community with some of the state's cleanest and calmest beaches, makes for the perfect family weekend escape. It provides little of everything, including nature, wildlife, and culture.
Whether you are in it for the sun, the beaches, or to soak up some history, you will find your fix. Visit Hurricane Alley Waterpark with your kids and practice water dog floating yoga.
Conclusion
Texas is the place to visit if you are planning an ideal family vacation. From the stunning beaches to the national parks, well-known cities, amusement parks, and museums. There is so much to work with, and you can easily satisfy the needs of various family members.
For a true indulgence in Texas, you should also try authentic Texan cuisines, such as chicken fried steaks.